A week and a half ago now I touched down at YEG Airport sitting in seat 25E (I think) next to a wonderful human being, talented artist and constant inspiration. We had just spent the last 4 hrs writing the script and some panel breakdowns for an Intellectual Property we're working on. (IP if your in "the biz") We were laughing until we cried at times, 4 hrs well spent. Kelly Mellings, my business partner had been invited to attend the Toronto Comics Arts Festival doing signings and a few speaking engagements to promote
The Outside Circle,
a graphic novel he illustrated in partnership with Dr. Patti Laboucane-Benson of Native Counselling Services of Alberta. I'm so proud of the work they did together and happy to have been a support as Kelly worked on the book.
TCAF
I was able to make it out for the weekend as well and I filled my time taking in TCAF. What a great festival. So many people attended I got a little crowd crazed on Saturday, but I sure enjoyed perusing the creators work on display.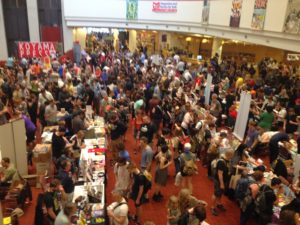 It was a very eclectic crowd as was the array of books and story's available. TCAF is different than any convention I've attended, a sort of pool of story tellers who have produced a deluge of unique, heartfelt, meaningful, important, challenging and original stories. A large volume of creators there appeared to be promoting work they've been pursuing in their "spare" time apart from their day-to-day. If I could encapsulate my feelings about the Festival, it would be that it solidified the notion that this kind of work is a labour of love. This was apparent in everyone from the young novice to the master of the comic medium himself, Scott McCloud. I listened to a panel discussion featuring him, Raina Telgemeier, Professor Glen Downey and George O'Connor (which was very interesting and gave me a lengthy list of works to read). I also had the opportunity to speak with him briefly on three occasions.
He was promoting his new labour of love The Sculptor. It's all of the descriptors I listed earlier and more. There are moments in this book where you are carried by the medium through time and emotion, in amazing ways. It's a testament to the deep knowledge he posseses about sequential art. If you're interested in the medium, read The Sculptor and his other books. The Sculptor does carry challenging themes around life, death and purpose and there are some sexy bits and language though their use all felt real and honest and not a "sex sells" kind of usage. I leave it to you to discern whether you read it and who you share it with. It's extremely well done and will likely linger with me for a while. Mr. McCloud is a genuine, humble, enthusiastic creator. Meeting him and his wife Ivy was one of the highlights for me. Thank you for being a genuine, passionate creator and impacting the medium the way you have Scott McCloud.


I enjoyed listening to Patti and Kelly share about "The Outside Circle". Couple of regular celebrities those two! In all seriousness, the audience for their talks was small but very engaged.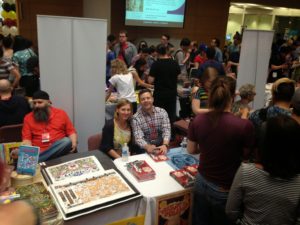 Dr. Patti Laboucane-Benson and Kelly Mellings at the House of Anansi booth.
This book is very impactful and full of important content. It was a delight to see them sitting at the House of Anansi table at the Festival. I also had the pleasure of meeting much of the team at Anansi as well. Tremendously talented, motivated, generous and engaged people.
Overall, the festival, for me was a terrific experience. I'd definitely attend again. It was refreshing and inspiring to see so many people working so hard to promote their work.
MEETINGS WITH PUBLISHERS
We stayed on in Toronto until Wednesday and had two meetings, one with an Editorial Director and the other with a Publisher, both of whom will currently remain nameless. Oooooo mysterious, right?!
Our meeting on Monday was very good. We displayed our portfolio from Pulp Studios Inc. and the response was warm. Particularly to the IP I mentioned in the opening of this post. Very exciting! We have some momentum now and purpose to make quick strides on it.
I also shared Our 1984 with both Publishing Houses. One has expressed interest in seeing the manuscript and the page roughs. I presented 5 finished pages and some page roughs when we met. I also had the opportunity to express my larger vision of a series of books. It was great having someone express interest in the work. When we left the meeting on Monday I felt as though a weight had lifted. My intentions are to push this work out into the light, one way or the other but to have someone say it was lovely, or beautiful, or whatever they said in positive response to the art, (I can't recall the precise words used now, it was kind of a sweaty palms moment) felt fantastic. They expressed that they wanted me to not complete any further pages but provide the manuscript and roughs so they can work with me on crafting something amazing. I'm very excited about what this may turn into.

Our 1984 page 4 and 5 in my presentation to the publishers.
Both meetings provided me some incite into the industry. It's like a whole other world that we've only now scratched the surface of. I brought Our 1984 to the second Publishing House and was told that if the other has publisher expressed some interest, etiquette states that I offer them first right of refusal. Who knew? They stated that if I were doing a blanket submission to multiple publishers that I could choose to speak to more than one. The second publishing house also expressed interest in it and said they could see the potential for a series. There was more immediate feedback on the artwork, because they tend to publish more organic, natural feeling work. Our 1984 definitely has a more animated, cartoony feel to it. It was a great experience to get an opportunity to see a little bit about how this world works.
NEXT STEPS
Kelly and I will be pushing more on our IP. I have already polished up the manuscript and need to complete my last page roughs to send along to the first Publisher. We'll see what happens from there.
I'm very excited about the road ahead. It's a long road, we still need to push on Pulp while we work at completing these projects. Kelly and I both came home feeling that we had had a glimpse of the promised land and now need to work diligently to get there. The transition to shifting our revenue streams will not happen overnight, and nor should it, every thing worth doing takes some doing. Or something like that.